WOULDN'T IT BE FUNNY

"...if we drove off the road and fell into that lake back there." That was the conversation we were having. We were talking about how last season a father and son died when their canoe tipped in that area of the park. They didn't drown. They froze. Apparently the temperature of the water is so low, you have about 20 seconds after you hit the water before your muscles completely shut down.




As we drive from our last stop, the falls, to our next, Old Faithful, it had started to snow heavily.




And then it happened. On a downward curve, the car started to slide. Right towards the truck that was coming from the other direction.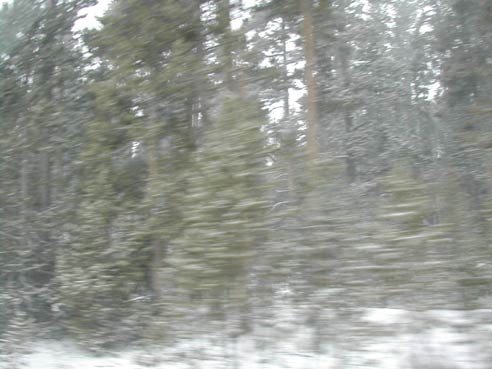 Thankfully, we didn't hit the pickup, but we kept on sliding until I lost control completely and spun around. My rear driver's side wheel impacted the "curb," and plowing through about 10 ft of snow and sod finally stopped us.




Lori and I were both ok. It looked like very little damage was done to the car, and nothing was apparent except a flat, misaligned, tire. I was later told by the mechanic that I "must've hit it just right. Things are really screwed up in there."




The view from the wrecker. Score's tied: Mother Nature, 1 - Jerk From the City, 1




Another shot taken from inside the tow truck. A couple of years ago a big fire destroyed a huge part of the forest here. Felt exactly right, driving through this part of the park.




Taken as we waited in the snow for tow truck #2, which arrived almost 3 hours late. We spent a lot of time hanging out with one of the rangers that day. It was his job, sure, but he really took extra interest in us, and even offered to let us stay at his place in the park for the night. Which would've been extremely cool, but for stupid and complicated reasons it didn't work out. Which is unfortunate, since I really wanted to help him keep Yogi away from those picka-nick baskets.

And it was even more unfortunate, because once we were towed to Jackson, WY, we found out (eventually) that we were looking at at least a week before the car could be fixed. You see, there's a tremendous amount to do in the resort/tourist-trap town of Jackson—if you're there during the season. It was two weeks to the opening of the ski season, and well past the summer season. And by the end of the second day, we had exhausted all the activities the locals suggested ("Uhm... you could drink...?").

There was only one thing to do.



*As much as I want you to believe that we were wholly blasé to the possibility of our messy deaths, we were actually not taking snapshots during the accident. The "crash" photos were taken just prior.