WHY DID I WANT TO DRIVE ACROSS THE COUNTRY AGAIN?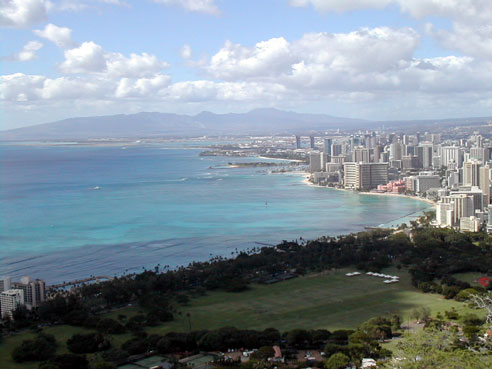 Faced with another week of snow and general suck in WY, we thought to ourselves, "what could we do to make the situation better?" Easy. Get the hell out of Dodge. Uh. Jackson. We had to wait for the car, but we didn't have to wait there! After an afternoon of calls to United, we finally found flights. With a slight problem. See, there are no direct flights from Jackson to, well, anywhere (see my previous comments about the general suck). There was however, a flight leaving Salt Lake City in the morning. So we got in a rental car and drove thru the night to Utah.




We spent 6 days in Hawaii, and didn't take many pictures. Actually, after the accident, we weren't really in the mood for picture taking in general. But being warm and all filled up with mai-tai's made us... not really care about anything but being happy.




Hawaii is pretty much as nice as everyone says it is. Especially the grass. I liked the grass a lot. Our hotel was right on Waikiki beach. Which was nice. Getting up and crossing the street and going onto the beach. Though next time, I would like to stay at a less... developed part/island.




The view from the top of Diamondhead, looking west towards Waikiki. We're standing in what used to be lookout points for Navy artillery batteries during WWII.




The view from Diamondhead, looking south. On our way down the mountain, we stuck up a conversation with a trolley driver, hoping he would take us back to our hotel. He noticed Lori's Salt Lake 2002 hat, and asked if we were at the Olympics. Now, one thing to know about me is that I really enjoy lying, especially when there's nothing to be gained. Sometimes I'll just make ridiculous things up because it amuses me. "Yeah, she was there. Competing." Lori was appalled. For 10 minutes I continued on about how she was a biathalete (target shooting + cross country skiing), that I was her coach, and that we were newlyweds. For her part, Lori was very modest. Apparently, she wasn't ever in serious medal contention, and that was probably her last Oylmpics. "It's an honor just to compete," he rejoined. Truly, it is.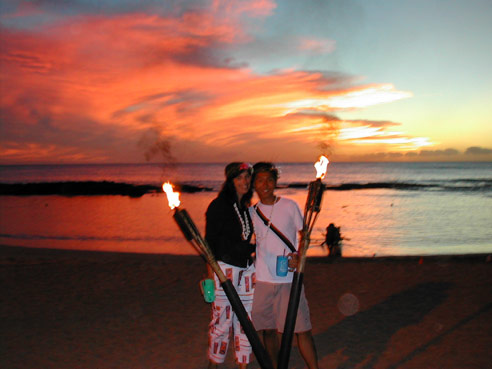 At our second luau of the week. The first was held on the second floor of a hotel. And it was a buffet. No kahlua pig, no poi. It was like the Vegas version of a luau (and we later examined all the materials, noticing the word "luau" wasn't actually ON anything). This one was better, though still pretty tourist-y. Pig was good, and at least some of it was cooked in the sand. Oh, and P.S., don't ask inebriated party-goers to take pictures of you. Way to go, Drunky McShakes-A-Lot.




At the Dole Plantation Pineapple Maze, the world's largest maze. I'm pouting because it's our last day on Oahu and I just realized the majority of our pictures will be of the Dole Plantation Pineapple Maze.




This is what being hopelessly lost looks like.




Driving around Oahu our last day.




There are a bunch of snorkeling pictures, but I need to get them developed. So you'll have to wait a bit longer to see me accidentally stepping on all sorts of endangered fish and coral.