THE MIDWEST

Yeah. We saw of lot of that. The country's kind of flat in the middle, eh.




Thank god for Spam. And er, Austin, MN., I guess.




"Hi there! My Name's Spammy! Eat me! EAT ME!! ARRRRR!!"




"That'll do, pig."




Lots more of this...




10pm, on the interstate. Passed Sioux Falls, SD 15 miles back. We're looking though the traveler's magazine, picking out coupons for motels in Mitchell, where we plan to stop for the night. The deals are great, but strangely, they're all invalid for one weekend in October... which happens to be that particular night. You see, Mitchell is home to the Corn Palace, the world's only Byzantine structure decorated with corn. And apparently, it is also home to the world's best pheasant hunting. And of course, the season started THAT DAY. The woman at the motel informed us that not only were there no vacancies in all of Mitchell, but told us we might have to drive back to Minnesota to find lodging.




Well, long story short, we turned around and got a room in Sioux Falls. Anyway, here's the corn palace. GO CORN! WOO!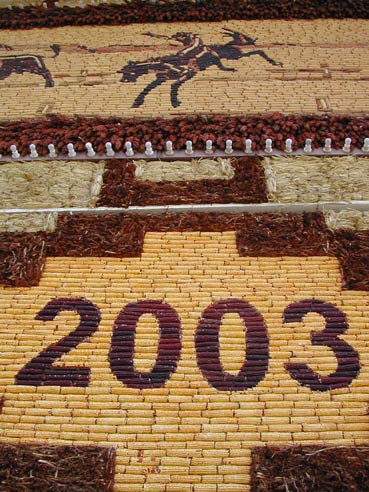 Yeeep. That's some fine corn.




Oh, believe me. I wanted to shoot those damned birds.




The roads in South Dakota are pink. Hmm... seems I've had the wrong idea about cowboys all along!