Fuzzysquid
career
downloads
about
delicious
photos

/ Main

As with a low sucking sound it slowly disappeared again, Starbuck still gazing at the agitated waters where it had sunk, with a wild voice exclaimed—"Almost rather I had seen Moby Dick and fought him, than to have seen thee, thou white ghost!"
"What was it, Sir?" said Flask.
"The great live squid, which, they say, few whale-ships ever beheld and returned to their ports to tell of it."

Moby-Dick, 1851



NEWS





3-17-09 No one reads this column
Guys, FURL sucks. It has sucked for years, and I'm sorry I've been using it. I have switched over to delicious; I would have done this much sooner, but they made it really difficult the last time I tried.


4-21-08 Archives
Uhmm, apparently archives haven't really been working since late 2006. THANX for the heads up guys! They are temporarily fixed, and will stay temporarily fixed until I migrate to new software/layout. I have said some hilarious things in the last 7 years, that future generations will feel lucky I preserved. Go check them out.


1-18-08 new iPhone icon
Woah, it's been 3 years since the last news update! Fuzzysquid now has a webclips icon for your iPhone! It'll automagically show up when you add FS to your home screen. Atom and RSS feeds have been available for a few years now, but I never made special mention of it.


1-14-05 LJ images
Since it seems to be popular, and it's been linked in a lot of different places besides here, I've decided to post the LJ Images page. At least in the news, at least for now. It's also getting some Google ads because you LiveJournal people are sucking up all my bandwidth (35% for that one page!)


4-02-04 FURL
Check out what I've been browsing: FURL.net bookmark archive. Not much commentary, relevance, or sequitur—but it's what's keeping this blog from turning into a meme dumpster.





LINKS



SQUID STUFF


BLAG read the archive



Friday, February 28, 2003
dannyboy 6:06 PM (0)


Day 6 - Front view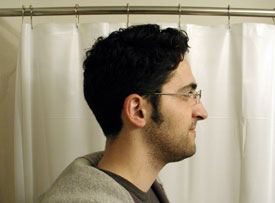 Day 6 - Side view


AREA MAN GROWS BEARD, BALLS

SAN FRANCISCO, CA—Citing the need "for a change of pace," local area man Joseph Magnani declared his decision to grow a beard to the barely stifled snickers of gathered onlookers.

"He had been talking about it for days," recalls Magnani's roommate, Samuel Lind. "And then last Saturday night he told me to take his razor and hide it from him."

Facial hair styling is typically used as a means of self-expression among young adult males, and "often with tragic results," adds Dr. Fletcher Thompson. Dr. Thompson, chair of the Beard, Moustache, & Sideburn department at Hampton University, has spent the majority of his 23-year career studying the changing trends in coiffure visage.

"It's really sad, because no matter how painful, or even how deadly, we as a society never seem to learn from our mistakes," Thompson says wistfully. "I mean, just look at the Soulpatch," continued Thompson, grimacing. "Our impressionable teens look at the media and say, 'wow, I would look great in that pencil thin moustache.' This is precisely the kind of experimentation that leads to Goatees. Then come the hardcore beards, the Mutton Chops, Handlebars, Van Dykes, Lenin Beards, and the most devastating of all, the French Fork."

But according to those who know him best, Joseph's sudden decision isn't simple experimentation. "I would definitely say he's had an unhealthy preoccupation with his various body hairs in the past," remarked college roommate Daniel Kuo. "One year he stopped cutting his [head] hair. He let it grow for an entire year." "Yeah, we even convinced him to tie his huge ball of hair into afro puffs," laughs Lind. "It was totally sweet." [see file photo]

Undeterred by his close friends' token attempts to stop him, Magnani has not shaved for close to a full week. "I don't know how long he's going to last," mused Kuo, "but I hope at least until April. There's really nothing good on TV this season." Added Lind, "our next step is to have him to shave his head."