NEWS





3-17-09 No one reads this column
Guys, FURL sucks. It has sucked for years, and I'm sorry I've been using it. I have switched over to delicious; I would have done this much sooner, but they made it really difficult the last time I tried.


4-21-08 Archives
Uhmm, apparently archives haven't really been working since late 2006. THANX for the heads up guys! They are temporarily fixed, and will stay temporarily fixed until I migrate to new software/layout. I have said some hilarious things in the last 7 years, that future generations will feel lucky I preserved. Go check them out.


1-18-08 new iPhone icon
Woah, it's been 3 years since the last news update! Fuzzysquid now has a webclips icon for your iPhone! It'll automagically show up when you add FS to your home screen. Atom and RSS feeds have been available for a few years now, but I never made special mention of it.


1-14-05 LJ images
Since it seems to be popular, and it's been linked in a lot of different places besides here, I've decided to post the LJ Images page. At least in the news, at least for now. It's also getting some Google ads because you LiveJournal people are sucking up all my bandwidth (35% for that one page!)


4-02-04 FURL
Check out what I've been browsing: FURL.net bookmark archive. Not much commentary, relevance, or sequitur—but it's what's keeping this blog from turning into a meme dumpster.





LINKS



SQUID STUFF


BLAG read the archive



Saturday, May 31, 2003
dannyboy 9:22 PM (0)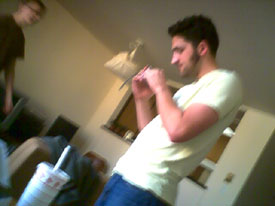 I went to Fry's with Joe, who bought a new digicam, and I saw this. Best $37 I've ever spent.

rurouni 5:36 PM (0)


Indeed, your ex-roommie sounds like the real world type. You're never going to see any money from her, though she may have bills still coming to your place. Probably used the place as collateral for something. Anyways, I'm still in the States for a bit. Leaving July 26th, but I found out recently where I'll be going so I put a pin up. And no I'm not turning Japanese, they'd never accept me.

dannyboy 2:58 AM (0)


Holy electric badger poop! Luke, did you leave the States already? Are you turning Japanese, are you turning Japanese, do you really think so?

dannyboy 2:45 AM (0)


Oh, and I do enjoy being quoted.

dannyboy 2:37 AM (0)


Tonight I arrived home, to an open garage door. The crazy roommate was moving out today, so I thought they were still packing and loading. When I got inside, there was a note saying goodbye. She owes me $100. I do not expect to see any of it again. I found out later that Simon's bike was missing from the garage. The Trek, not the Ducati, thankfully. Oh, and she finished Y's loaf of bread on her way out.

There was some concern among the other roommates as to whether she would actually be leaving the house by the end of the month. Or at all. For the last few days she had been in her room, in bed, because "she fell down the stairs." This is the girl with the history of emergency room visits that have never turned up anything.

We may be changing our locks soon. My house is like The Real World: San Francisco, minus the hookups.

New Roommate intends to move in beginning of July. So far, she seems normal. Too normal...



Friday, May 30, 2003
dannyboy 8:49 PM (0)


I think I just answered my own question.

dannyboy 6:04 PM (0)


Why is everything I want always a world away?

dannyboy 12:58 PM (0)


This is what I want to do. Now to figure out how.

moxy 12:53 PM (0)


A wise person once said: No one ever really chats on IM, they just check away messages (or something along those lines.) Now it is so true: introducing IM Stalking, courtesy of MF. Wow.



Thursday, May 29, 2003
dannyboy 12:30 AM (0)


I couldn't sleep last night. And I thought about how random people read my website, and they decide after one or two posts that they not only know me, but have some deep connection with me. And then they read two more posts and I say something to make them hate me forever. At least, that's the way it would be, if anyone read my website.

I'm going to keep fooling myself and believe that I'm inexplicably intriguing and repellent at the same time.

P.S.: Note to self: don't leave very very personal e-mails in your drafts folder at work.
P.P.S.: Deep connections only happen after you mistake someone for someone more interesting. I hope strangers keep e-mailing me.



Tuesday, May 27, 2003
dannyboy 3:59 PM (0)



«Quiere, aborrece, trata bien, maltrata,
y es la mujer, al fin, como sangría
que a veces da salud y a veces mata.»
-- Rimas humanas, CXCE: Lope de Vega

"She loves, hates, treats well, mistreats,
and women are, in the end, like bloodletting,
which sometimes heals and sometimes kills."
--Human Rhymes, CXCI, Lope de Vega


dannyboy 11:26 AM (0)


Well, summer in San Francisco = fog. And you really haven't seen fog until you've been here. I was going to take some pictures, but literally, all you'd see is white. We've had a week of the stuff and then the sun came out yesterday, and there was much rejoicing.

moxy 10:38 AM (0)


Want to learn how to appreciate a good, sunny May day? Go through six days straight of rain and clouds and fog. The sun has come out in New York CIty for the first time since last Tuesday and even though it's still only sixty degrees outside, it feels good. While it probably doesn't rival your California beautiful, Dan, today is a pretty nice day in NYC too.

And I bet your day would have been happier if your roomate didn't eat all your cookies. Damn cookie-stealing roomates.

dannyboy 9:26 AM (0)


When I'm unhappy I have nightmares and/or dreams that give me what I want. Sometimes both, at the same time. Last night I had several really violent dreams. It probably didn't help that I was being woken up every hour by my crazy roommate who was doing laundry all night. (I am not exaggerating when I say all night. She started around 3 and was still doing it when I left for work this morning.) When I'm alone I dream about being with someone. And when I'm happy, I dream that I can see in 4 dimensions.

Did I mention this same roommate ate all my cookies? Ok, not like store bought chip-ahoy crap. I baked cookies. I put them in tupperware on the counter. The next day there were only crumbs left. We had people coming by to look at the apartment and for the rest of the day all my questions were cookie-oriented. "POP QUIZ HOTSHOT!! You walk into the kitchen and on the counter are freshly baked cookies! What do you do? WHAT DO YOU DO?!" It was actually kind of an interesting day for roommate interviews, because my other two roommates were both impressively drunk. And talkative.

But this morning was another beautiful California day, and it's hard to be not happy. I listened to this woman, for the first time since she was stolen out of my car in college, and I realized she is the kind of woman I'd like to date. Probably not for more than a week at a time, but nonetheless.

dannyboy 12:44 AM (0)


Nothing is ever the same anymore.



Sunday, May 25, 2003
dannyboy 11:56 AM (0)


This past friday my company wrote a check that I (or more precisely, they) couldn't cash. So why is it that I get penalized (ridiculous bank fee) when someone else writes a bad check? You see, I work for a start-up and we're not yet profitable. I received an e-mail that assured me we're due $800K from clients and I would be paid, +10%, early next week. This was meant to allay my doubts, but had the opposite effect.

dannyboy 11:47 AM (0)


More on that previous post, as the situation develops. Maybe.



Saturday, May 24, 2003
dannyboy 7:35 PM (0)


What in the hell have I gotten myself into...

dannyboy 3:33 PM (0)


The Cousin's got some more pictures of the other cousin's wedding.

dannyboy 2:16 AM (0)


I used to panic at the start of each month, because I couldn't remember that the last 30 days had gone by. That no longer happens, but it's been replaced by a weekly anxiety of a lesser degree ("it's the weekend already?"). I can see where this is headed, and it scares me. Well, it's a mix of anticipation and resignation. The ratio depends on who's nearby.

dannyboy 1:13 AM (0)


Why do I answer my e-mails when I'm drunk?



Thursday, May 22, 2003
dannyboy 10:04 PM (0)


My roommate broke another one of my glasses. I'm starting to think she may have some serious passive aggressive issues.

moxy 2:04 PM (0)


Apparently, romanticism and passion are still worth something these days: Beethoven's Ninth Symphony sells for $3.5 million. I would wager that anyone who has heard Symphony No. 9 even just once probably has the last movement indelibly ingrained in their memory. The Economist had a brief (but good) bit about No. 9 and politics. Hey, if it was good enough for Hitler...

dannyboy 9:40 AM (0)


I too was once a nineteen year old college student, where every situation was an oppurtunity for self-discovery, and every relationship ended with a terribly self-important and deeply profound journal entry.

These days I like to drink beer, eat corndogs and watch mind-numbing, spirit-crushing reality tv.



Wednesday, May 21, 2003
dannyboy 11:42 PM (0)


Maybe because we're related, you dolt.

Malb 8:16 PM (0)


Why does the groom look like you?

dannyboy 3:12 PM (0)


My father just e-mailed me digital photos of my cousin Alex's wedding. The advance of technology is now far outstripping my ability to cope with my family. I am simultaneously bemused and horrified at my parents e-mailing me. My mother scans (physical) mail sent to New York and forwards them to me...! But the biggest question of all is, who gave them my e-mail address??

Here is the bride and groom. And here is my family. I anticipate looking like the gentleman to the far right in about 35 years.

moxy 9:58 AM (0)


George Soros rocks my socks. In that cut-throat, uber capitalist way, that is. Soros - punishing unsuspecting currency world wide!



Tuesday, May 20, 2003
dannyboy 9:30 PM (0)


Here's a very good explaination of why I decided to be a San Franciscan. Ok, and what the crap, the average income here is $70,237?? Where the hell is my cut?!



Sunday, May 18, 2003
dannyboy 10:24 PM (0)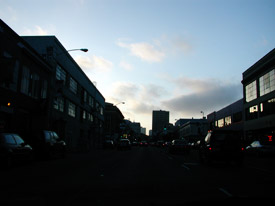 dannyboy 9:57 PM (0)


Since I was about 10, I've been compiling a mental list of things I'm going to do/get when I win the lottery. Today I added: this or maybe this.

dannyboy 11:24 AM (0)


I take showers that are a little too hot in the mornings, because it should hurt to get up.



Saturday, May 17, 2003
dannyboy 11:46 PM (0)


I saw Morgan Webb at the supermarket today.



Friday, May 16, 2003
dannyboy 9:49 AM (0)


I decided on my way home from work last night that my next car will be a convertible. And my next vacuum will be a Roomba.



Thursday, May 15, 2003
dannyboy 9:32 PM (0)


Update on the Star Wars Kid. He's been found, interviewed, and we're buying him an iPod...?

dannyboy 1:48 PM (0)


Oh sweet mother of crap, the people at work think I'm going crazy because I'm laughing so hard. And as long as I'm posting: the Journal teaches you how to be a layabout.



Wednesday, May 14, 2003
dannyboy 10:43 PM (0)


Ok. I can understand not wanting to buy clearance condoms. The store is probably trying to move old stock--I wouldn't want almost expired condoms either. But... duh? "Charge me full-price?" It's probably good this guy isn't passing his genes.

eito 7:04 PM (0)


Quote of the Year. I heard this from the two guys who were ahead of me in line at the drugstore. One of them was buying a box of condoms. So when he handed the condoms to the cashier, the cashier said, "Oh, these are actually on sale, they?re half-price." Then I overheard the guy say, "Half-priced condoms? That sounds a little shady. Can you just charge me full-price instead? Thanks."

I'll remember that next time (wishful thinking perhaps?).

eito 6:47 PM (0)


i was hanging out with some college friends last weekend, and we ran into this girl that i knew. she joined us for a drink and after a few minutes, the awkward question "how do you know each other?" invariably came up. we both looked at each other and giggled. and as i started to stammer out a story about how her roommate's sister's classmate used to work with me at my summer internship in taiwan, she blurts out that we met on the internet.

do i make life out to be more complicated than it is or is it really just that simple? maybe i just need to let my balls descend a little lower...



Monday, May 12, 2003
dannyboy 3:22 PM (0)


I'm also missing something else right now, but these dreams are not up for discussion here.

dannyboy 3:17 PM (0)


Here is what I miss today. I'm thinking about ordering some pastrami (yes, those prices are correct) but perhaps my money would be better spent on a plane ticket.

dannyboy 1:05 AM (0)


You can't keep in touch with your past. How simple is that? I'd also like to say that I was much much smarter when I was younger. What good is experience when you can't come up with memorable quips?

I convinced two medical students last night, for a disturbingly long amount of time, that I have an alcohol problem. There's a series of questions you ask someone to determine if they're an alcoholic.

1. Do your family and friends express concern about your drinking?
Yes, and often. And not just my family. Complete strangers too.

1a. ...really? People you don't know?
Bartenders, mostly.

2. Do you feel annoyed or angry at these people?
And how! They're jerks, all of them!

Unfortunately, this is when they caught on, so I didn't get to hear the rest of the questions.



Friday, May 09, 2003
dannyboy 10:49 AM (0)


This is what I just spent $250 on. Sigh.



Thursday, May 08, 2003
dannyboy 10:29 AM (0)


I can't relax / I need to meditate



Wednesday, May 07, 2003
dannyboy 9:40 AM (0)


OK, I sent in my iPod on Monday for repairs, and I got it back this morning. Good news, they gave me a new unit! Bad news, I forgot how easily this thing scratches. Damnnit, I have had it for 10 min, and already it's no longer mint. The protective case should NOT scratch what it's protecting!!



Tuesday, May 06, 2003
dannyboy 4:23 PM (0)


"1909. James Joyce lives in Trieste (Italy) with his family. End of October, he leaves alone for Dublin on a business trip, and stays there until the end of December. He makes a pact with his wife to write to each other erotic letters. The letters of his wife disappeared, but the ones he wrote were published in 1975, the "dirty" letters of Joyce to [his] wife."
[ Ripped from MeFi. ]

This is some amazing stuff (it made me blush). Yowie. I wish Nora Joyce's letters were available. This is the woman that said to James, "Why don't you write books people can read?"

dannyboy 11:42 AM (0)


And speaking of Belgium, I bought a robe over the weekend. It's as close to Arthur Dent's dressing gown as I could find. Now all I need to do is sew on a Carnegie Mellon patch.

dannyboy 11:26 AM (0)


Oh, and yes Benny, I deleted your post. Here's why. You're a guest on my website. No one's forcing you to read this blog, much less contribute to it. You've got your own website, and if I posted there, I'd respect whatever rules you had. I certainly wouldn't tell you what was appropriate or not for your blog.

I use profanity, not often, but when it accurately expresses how I feel. You use it as well, much more indiscriminately than I do, but somehow it's ok in your mind because you're using the Wal-Mart PG-13 version. So many times in the past I've wanted to tell you to let your balls descend and own up to what you're really saying. Either curse, or don't. Either have emotions, or repress them entirely.

Belgium!

dannyboy 11:09 AM (0)


Conversation in the bar last night:

her: "So those two over there are an item, and apparently they like to pick up women for threesomes. I met them at a party a while ago and the guy was hitting on me, and I had this odd feeling the woman was staring at me the whole night."

me: Yeah, I don't think that's a situation I'd get myself into. I'd imagine there'd be a lot of crying at the end of the night. Plus I'd have to change my lifestyle and get all sorts of lotions, etc.

her: "As I get older, more and more, I smoke pot because I have to, and not because I want to. I mean, it used to be something I did at parties, but now I take a hit so I can fall asleep at night."

me: So what did you say your name was again?

her: "You know, [Name Withheld] seems like such a good girl, and she once broke up with a guy because he was divorced and they wouldn't ever be able to get married in a Catholic church. But then she took me to the Power Exchange once..." (NSFW)

me: Hmm, perhaps I've had the wrong idea about her all along...



Monday, May 05, 2003
dannyboy 4:49 PM (0)


Looks like the archives are back. Good thing too--because if you missed any of my entries for April, well, I was fucking hilarious.

dannyboy 10:04 AM (0)


OK. My roommate, the not-so-stable one, owes me $80 for bills. In the kitchen this weekend was an envelope with my name on it. It jingled. Inside was $12.57 in change, with an IOU for the remainder. Sweet merciful crap.

She's moving out at the end of the month. This may be our only oppurtunity to bring stability to the Force. Anyone need a place to live?

moxy 6:11 AM (0)


New York City subway and bus rides are now $2.00... you leave New York and look at what happens, Dan! Just look at it! Harumph. That's right - you should feel bad. ;)



Sunday, May 04, 2003
dannyboy 1:40 PM (0)


Speaking of robots, CMU is hosting this year's RoboCup American Open. I for one welcome our robot overlords, and would like to remind them that as a trusted internet personality, I could be very useful in gathering humans to toil in your underground sugar mines.



Friday, May 02, 2003
dannyboy 3:01 PM (0)


CMU to create robot hall of fame. Bah. All the good stuff happens after I'm gone.

dannyboy 11:40 AM (0)


Actually, I think that sucking sound is coming from the vicinity of your beleaguered and cancerous LUNGS. HAHA! I remember in high school taking the bus over the bridge into Manhattan, and being amazed at the brown halo around the city. And thinking, holy mother of crap I need to get out of this town. The common wisdom was that breathing NYC air was the equivalent of smoking two packs a day, as compared with someone living in the country. Which means... I should start smoking, I guess. Or something.

Malb 7:35 AM (0)


Sonuva... New York ranked 14 as the most air polluted city. San Francisco top 20 on cleanest, for this reason I hate Dan even more...you suck!!



Thursday, May 01, 2003
dannyboy 4:44 PM (0)


What are, signs of the coming apocalypse?
-Correct!
I'll take dead cultural references for $1000, Alex.

Malb 12:14 PM (0)


"Bling Bling" added to the Oxford English Dictionary

dannyboy 10:10 AM (0)


Ok, maybe I wouldn't. Maybe I'd rather just walk to the store. But not by much!

Also, I can't hear out of my left ear for some reason.

dannyboy 9:55 AM (0)


I'd kill a small puppy with my bare hands for a pint of milk right now. Some milk! Some milk! My kingdom for some milk!